Play, score and
track results
Score and follow your bridge games with Bridgemates
or the Bridgemate app. Combine with Bridgemate Play
to play from home or at the club. Take control of a
whole new club experience.
Discover why Bridgemate is the most
comprehensive solution for your club
Easy scoring for all your
bridge games

Bridgemate is the world's most popular wireless scoring system for bridge clubs and tournaments. Its user-friendliness, functionality and reliability are unrivalled and lifts any club to a higher level.
More about Bridgemate scoring
Create a hybrid club with Bridgemate Play

Bridgemate Play enables you to create
a true hybrid bridge club, where face-to-face club players play together with online participants
in one big club game.
Use the Bridgemate app to score your club game

Use the Bridgemate app on your mobile phone to follow your results or enter scores instead of using Bridgemates. Or combine Bridgemates and the Bridgemate app and score as you prefer.
 Bridgemate Play
Combine online play and face-to-face play in one hybrid club game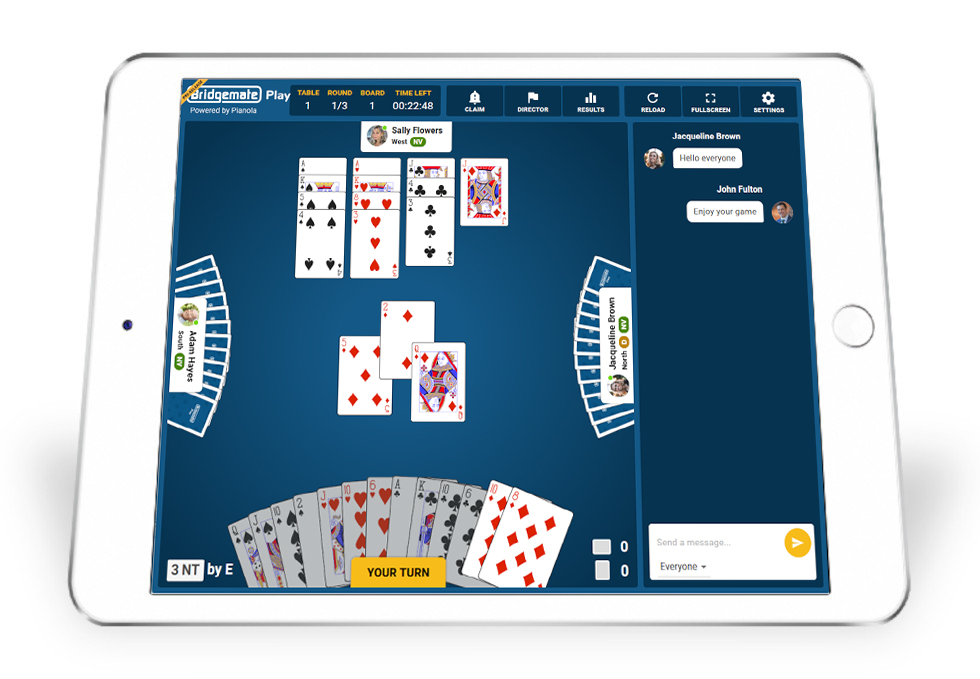 The Bridgemate Scoring System (BCS) is the North American electronic scoring system of choice - with over 35,000 in use.
The Bridgemate Scoring System is an advanced scoring system for bridge, developed to make recording results easier, reduce errors to a minimum, have real-time registration of the results in the scoring program and increase the speed of publishing final results.  Both players and directors benefit from using Bridgemates.  Players find the Bridgemate an easy-to-use device and enjoy the instant feedback on their results after each board is played.   Directors can now focus completely on supervising the game or tournament without worrying about picking up score sheets, recording player names etc.  The Bridgemate system does it all.
Latest news
June 2022:  Latest Update
    
Bridgemates II:  There is 1 separate action:              
          Install:  BCS Software:  BCSsetup3-9-9.exe - released 6-22
If your USB Server and Bridgemates have not been updated to firmware 3.1.1 (11-18), please do so now.           
              USB Server firmware update:  usbs311d.exe - 11-18-18
              Bridgemate II Firmware:  V3.1.1 - 11-18-18
 
Bridgemates Pro:  There is only 1 (optional) change:   Install BCSsetup3-7-19.exe
Bridgemate Pagers
The Bridgemates II system now offers an optional add-on paging system for receiving TD Calls (or other messages) on a special portable device carried by the Director(s).  There is a transmitting device connected to the scoring computer.  The directors carry a wrist or pocket pager to receive calls.  The system works fully on-site and does not require an internet connection or Wi-Fi network.  For more information see Bridgemate Pager
Our Partners


Bridgemate is the official scoring system of the European Bridge League and World Bridge Federation