Bridgemate II
More of everything, except the size.
Bridgemate has evolved.  The Bridgemate II has been completely
re-engineered, from the look and feel to its core programming.  We've added more than 30 improvements and new features, making life with Bridgemate now even easier for the TD and even more enjoyable for players.
If you're considering introducing the Bridgemate system to your club, you've come at the right time.


A larger LCD screen
(three times the size of the Bridgemate Pro)
with high contrast and large, clear fonts.

Four variable function keys
Allowing unlimited flexibility.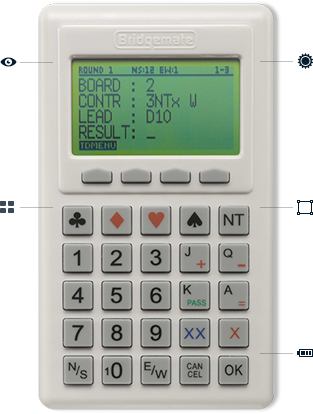 Lighter and better looking
but with the same large buttons, ease of use
and built-rugged quality

Easy-clean snap-on cover
and replaceable keypad.


60% more battery life
typically, 500 sessions on one pair of AAs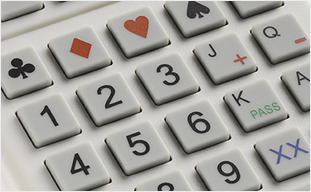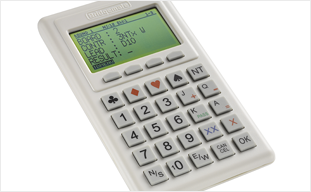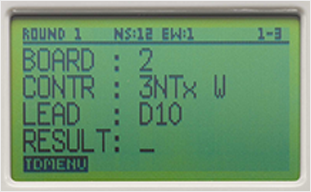 For players:
Extensive feedback on competitors' results (shown as traveller or frequency list), and on player's ranking.
Complement movement guide now includes player names, sit-out information and next-round table assignment.
Designed for players of all ages: a discrete companion at the table, not an interruption to their game.
Enter results easily and intuitively on one screen.
 For tournament directors:
Random or fixed-table handset allocation and real-time movement synchronization between the scoring program and the Bridgemates.
Update any Bridgemate setting once and transmit to all Bridgemates.
Extensive PIN-accessed TD menu provides full control over the system and the tournament.
Fewer TD calls as a result of revised and simplified way of entering and confirming scores as well as round recaps.
BRIDGEMATE SPECIFICATIONS
Technical details on everyone's favorite
bridge scoring system.
PRICE A SYSTEM
Find out how much a Bridgemate system
would cost for your club, using our
pricing page. Read more ›